South Africa's retail revival is cashing in
Many retailers, big and small, have had to change business models tested by both the swift arrival of global fast fashion brands and the Covid-19 pandemic. 
Sold on it: H&M's home concept store in Joburg carries its own range as well as local brands.
Consumers have become increasingly comfortable with buying online, which provides more convenience and a wider selection than brick-and-mortar stores.
This preference for convenience and fresh competition has pushed some retailers to merge their products into one space.
In August, The Foschini Group (TFG) tapped Superbalist co-founders Luke Jedeikin and Claude Hanan to develop Bash, their online store where all the TFG-owned brands are conveniently sold in one place.
This year, H&M South Africa has announced its clothing will be sold online on Superbalist, instead of on its own website, which has been little more than an (inconvenient) online catalogue to browse before visiting a physical store to purchase.
"The consumer wants choice, selection, convenience — as in everything in one place," says Jedeikin. "But, the upstarts are growing quicker, which is indicative of what the consumer wants."
Despite TFG and H&M focusing on online, there are still retailers that choose to nurture their brick-and-mortar experience. Popular fast fashion brand Zara has shifted focus to its physical flagship stores in Sandton City in Johannesburg  and Cape Town's Victoria & Albert Waterfront with swanky renovations, giving shoppers a more luxurious experience.
However, with the online world catering to convenient omni-channel spaces, discerning brick-and-mortar retail spaces can provide places where people come together; they create jobs, build community, offer spaces for young entrepreneurs, and help cut the number of delivery vehicles on the streets. What's more, they can be fun too.
In the face of South Africa's economic crunch, there are folk working to revive high street fashion and mall shopping using good design, turning around neighbourhoods through retail offerings.
While some push optimistically for e-commerce, do South Africa's physical shops have to offer a more personal experience, which cannot be experienced digitally?
Department stores like Stuttafords and Edgars, which shut their doors  in 2017 and 2020, respectively, left an empty space in the retail landscape. But, in 2020, We Are EGG entered the chat when it opened its first "next-generation department store" in Cape Town's Cavendish Mall.
EGG's co-founders know a thing or two about retail in South Africa. After taking over his father's luxury clothing brand Fabiani, EGG co-founder Arie Fabian sold the brand to TFG in 2011. EGG's other co-founder and chief executive, Paul Simon, is behind Young Designers Emporium (YDE), which started off as an innovative space for South Africa's young designers before he sold the brand to Truworths in 2004.
"What is unique about EGG is it takes away the ubiquity, the same offering that is everywhere else. Content in shopping centres is all the same," says Fabian. "When you enter EGG, all the content [merchandise] is the best of local creators across departments."
EGG has created a "shopping style", a notion new to South Africa.
The Rosebank store, which opened last year, is a cultural and social destination with live DJs, an intimate-piercing studio, lux carpeted high-end fashion corners, a restaurant and the first in-store greenhouse in South Africa.
"EGG is an integrative, experiential shopping experience. It's what South African shoppers need, want, and deserve," says Fabian. "It's a high-energy labyrinth of colour and talent, a maze of creativity," he adds.
It's about time South African talent had a seat at the retail table. Eighty-five percent of EGG's "partners" are local brands, which share the floor space and shelves with larger, global brands.
Local offerings, such as Art Club and Friends, are neighbours to The North Face and South African brand SwiiitchBeauty's cleverly designed experiential corner outshines those of the global cosmetics brands.
There is so much to see, yet EGG's clearly defined departments are not overwhelming, making shoppers extend their visits and return. This "dwell time is the most important metric in retail", explains Fabian.
"You want to convert [time in the store] into transactions. Spending more time in the shop creates virality," says Fabian. "But, the content needs to be great. Sometimes we get it wrong."
The fundamental retail formula is the right product in the right place at the right time. But this requires a bit of space for tinkering and flexibility.
"Many large retailers who control the retail market don't have [flexibility] because the operators are not directly exposed to the business," says Fabian.
Other independent brands and stores in South Africa have tapped into the art of being nimble as a tool for resilience as business models are tested and evolve as consumers do.
Why would you visit a 19th-century Georgian-style natio­nal monument home to buy pet accessories? Because this is a shop that surprises, with customers coming back to see what is new. House of Chommies in Cape Town combines history and modernity with panache, to display their handcrafted pet accessories.
While the department store model is pushed to evolve globally, the rise of the "concept store" provides a more curated home for brands and their products. Through their concept store, Chommies has evolved from its original aim of connecting folk with a passion for dogs and design via stylish, handcrafted goods into a lifestyle brand.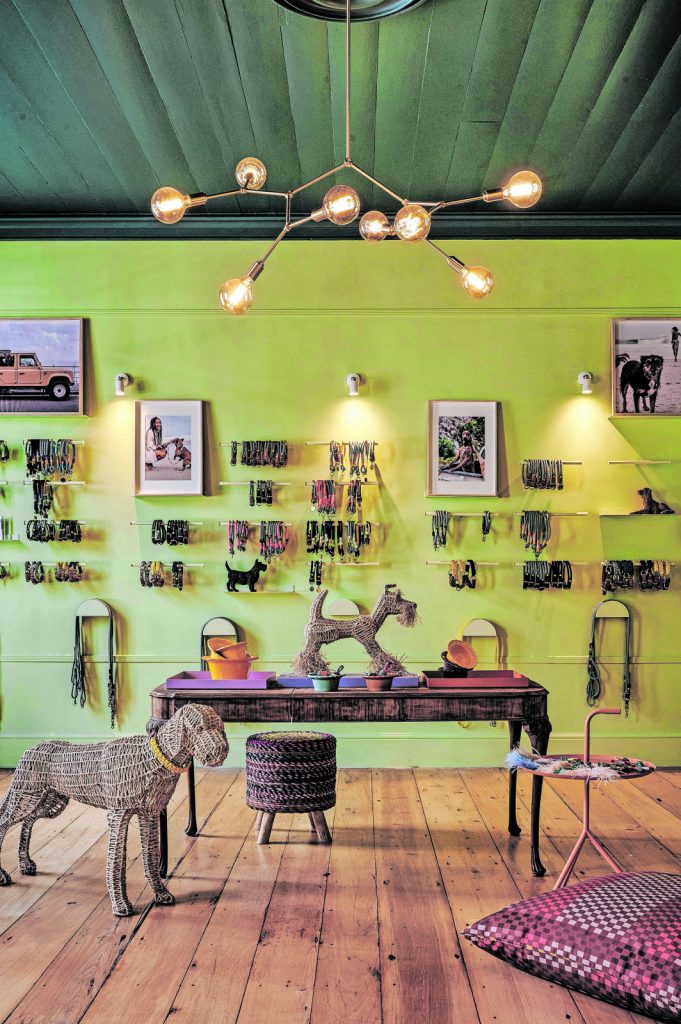 Chommies founder Nathalie Klijn, who moved to Cape Town from Germany more than a decade ago, defines the concept store as a place where you "buy into a lifestyle, not just a product".
"You bring people together via a shared aesthetic … which you see mostly online, but it's a physical space."
The concept store entices independent brands by allowing them to find a niche. A specific focus tends to garner the most loyal audience.
As the name on the prettily lettered sign suggests, Chommies encapsulates a lifestyle that takes furry friends seriously in the most playful — and aesthetically pleasing — way.
"People we talk to love and buy into the aesthetic of Chommies. It's the style of the brand people buy into," says Klijn.
However, selling dog-related products proved restricting for Chommies, which does not sell its products in other pet stores. With a recognisably colourful aesthetic, evolving into a lifestyle brand is the flexibility larger South African retailers struggle with, but it comes naturally to Chommies.
Retailers have capitalised on the demand from homeowners who are spending money on improving their spaces.
With the opening of a Chommies concept store, the colourful space makes way for petware-adjacent products such as homeware, mohair products and a "secret garden", which  is designed for canine customers and their owners.
At the same time, the global brands that are filling the spaces left by South African retailers are also embracing the concept store.
H&M recently opened its first home concept store in South Africa. The Sandton City, Johannesburg, store stocks not only its own products but local brands too. Local brands like Shopfox, Always Welcome, The Urbanist and Botanicas mingle with H&M Home's affordable, trendy homeware to give shoppers the idea of a lifestyle they can buy into, something that larger retailers' disjointed merchandising often does not do as seamlessly.
There is also space for the concept store at the traditional shopping mall. During the Covid-19 pandemic, retail developments built to cater for tourists and armies of office workers suddenly went quiet, as borders closed and footfall dropped. But there is optimism in the air for mall and tourist hubs, such as the V&A Waterfront, where a new concept store Aafricaa showcases African-designed homeware, clothing and accessories.
If one is following the "buy into a lifestyle" school of thought, shoppers at Aafricaa are buying into the generation who consciously choose local brands over the usual international brands. The conscious consumer is a lifestyle in itself. Aafricaa's ethos, which is built on community, diversity, freedom and togetherness, infuses the contents of the shop.
A much smaller space than EGG, Aafricaa differs from it in that its aesthetic is focused on the curation of brands with bold African textiles, artisanal craftsmanship and a Mzansi atmosphere (without giving off a gift-shop vibe).
What Fabian, Klijn and Aafricaa share is an optimistic view of the future of South African retail. The choice to work with international competitors and yet also nurture local offerings spells a positive outlook for South Africa's retail fashion sector, with plenty of room for innovation.
Courtesy of Mail & Guardian – full article here